Being a Purina Certified Expert Dealer means that we offer a complete line of quality Purina feed products and have knowledgeable associates who care first about our customers, and their animals. Training is a key element for our Certified Expert staff and you can depend on us for Certified Expert advice!
Expert Articles & Advice
August 1, 2014
Autumn is upon us and it's time to say hello to fresh air and goodbye to stifling hot temperatures. Of course, if you're raising chickens for eggs, you will need to take a few steps to ensure your hens stay in production during the fall and winter months.
August 1, 2014
It's important for horse owners to understand how ingredients, feed safety and qualityissues can affect their horses' health and performance. Oftentimes, people look at thefeed tag for information on which to base their feed buying decision.
Special Offers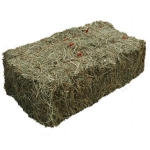 Only $9.95 per Bale for Certified "Weed Free" Grass Hay!
Purina Livestock Videos
Purina® Layena® Plus Omega-3 Poultry Feed for Backyard Chickens
Quick Contact & Hours
Mon - Fri
7:30 am - 5:30 pm